Being a celebrity requires having a thick skin, as there will always be critics out there. However, being a celebrity mom requires a whole different skill set of deflecting criticism. It seems like any time a celebrity parents posts anything that has to do with their kids on social media, they're opening themselves up for a tirade of rude comments and harsh criticisms from complete strangers.
One celebrity mom who is no stranger to online abuse from strangers is model and Lip Synch Battle host Chrissy Teigen. She is the mother of two adorable children, 3 year old Luna and 1 year old Miles (their father is none other than singer John Legend). However, despite the fact that her every move is scrutinized, Chrissy is always quick with coming up with a hilarious comeback and always shuts the haters down.
Teigen recently shared a video with her social media followers that shows her hanging out with her daughter Luna, watching Sesame Street. The video's caption reads: "Doing her nails is my knitting. Kid toes kill me!" You would think this adorable video would be harmless fun, but because this is the Internet, we can't have nice things.
Of course, the Debbie Downers had to come out and play. One woman commented on the video: "Applying poisonous chemicals directly onto a child's body can not be good. Whatever poisons are in polish are absorbed through the nail and directly into their body."
Teigen brushed it off and quickly tweeted in response: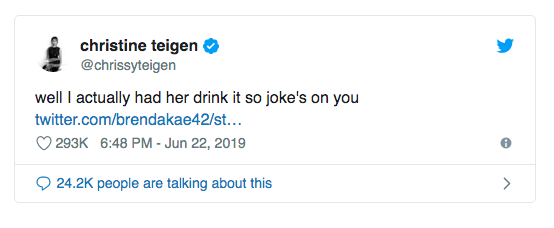 Of course, Chrissy is awesome and didn't take the criticism to heart. However, it'd be prudent for people to remember that they're tweeting real people, and just because they're celebrities, it doesn't mean they deserve to be torn apart and critiqued by strangers.